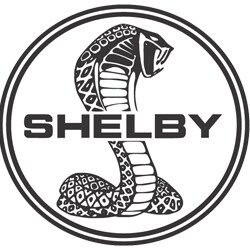 "Carroll Shelby has had a remarkably long career as a driver, owner, team manager, manufacturer, consultant, and visionary.

Early in his career, Carroll's accomplishments as a race car driver included breaking land speed records at Bonneville in 1954 for Austin Healey and winning the 24-hour Le Mans in 1959 alongside teammate Roy Salvadori. As a team manager, Carroll was a part of the FIA World Grand Touring Championship as well as Ford GT victories at Le Mans.

When his health caused him to give up racing in 1960, Carroll got out of the driver's seat and turned his attention to design. He had a vision of creating a racecar made from a lightweight European chassis with American V8 power."

 
 
 
 

"The result of this vision was what is considered perhaps the greatest sports car and one of the fastest road cars ever constructed - the Shelby Cobra. The aluminum-bodied 289 and 427 Cobra models and the subsequent Shelby Mustangs he built for Ford, made Carroll Shelby a household name in the 1960s.

After undergoing successful heart transplant surgery, a very grateful Carroll decided to use his reputable name for a good cause. In October 1991 he created the Carroll Shelby Children's Foundation, dedicated to providing assistance for acute coronary and kidney care for children in need."

 
 

"

With the foundation in place, Shelby extended his professional reach into the businesses of chili, racing tire distribution, and the raising of cattle, namely the Tuli bull.

In 1992, Carroll Shelby was inducted into the Automotive Hall of Fame. In the more than a decade since, he has continued to impact the world of racing and automobile design. Carroll Shelby is probably the only person to have worked at a visible level with all three of the American Automobile manufacturers. His charisma, vision and ability to know the best person for the job have made him into a master organizer and team leader able to produce consistently impressive results."

 
 
 
For more information about Shelby vehicles please visit the


official website

!